Mathieu
Forget
Whenever you make the jump,
someone will catch you.
February 12, 2021

Like Waves We Are in Motion, collaboration with Ran Ortner


I made the jump in an interesting time. In October, 2019 I started to transition out of a full-time job to a solo career as an artist and performer. I went to LA in early 2020, right before COVID happened. The plan was to stay there for 10 days experimenting with my own style, doing a lot spinning and levitation movements in the air. Because of the lockdown I ended up spending five months in LA, living in a nice house with some beautiful people and finding my creative flow.

The pandemic has really given me a chance to explore more of my creativity and be more challenged. Since there were so many people on their phones during the lockdown, there was also a lot more competition out there, a lot more creators going hard at it. So I felt I better keep pushing and that's what I was doing. I thought how could I create really fun content that would still be part of who I am? It made me want to try new things, like IG Live and TikTok. Just seeing how much creativity was happening on these apps was pretty inspiring. I was trying out all these different challenges and I was constantly creating 2-3 pieces a day. A couple of them went viral and I saw my social media following grow pretty fast.


OPIA
, collaboration with Cacho Falcón
It's been an interesting time and I can see that there's been a lot of changes, a lot of movement, a lot of people losing their jobs. It's a tough situation out there. I have friends and close people that I know that are really struggling. But I would lie if I said that it's not going great for me. I started to have more requests through agencies and I have never worked so much in my life. I am very grateful for it and this is why I keep on pushing, I keep on working really hard because I know I'm in a very privileged situation and it might all end very soon. So right now, while I have the momentum, I keep on working and I try to hire as many people as I can and I try to keep the positive energy and still stay as humble as possible.
I feel like my work has to uplift people and it has to inspire them. It has to show that things are going to get better.



I started getting a lot of positive feedback from people. They were telling me that they were enjoying my work, I was making them happy, I was making them forget some of the stuff that was happening out there in world. That motivated me to keep on creating more things. I was in a good mood, I was pretty happy, and I wanted to share this kind of optimism with people because not everybody has a chance to be able to do what I do.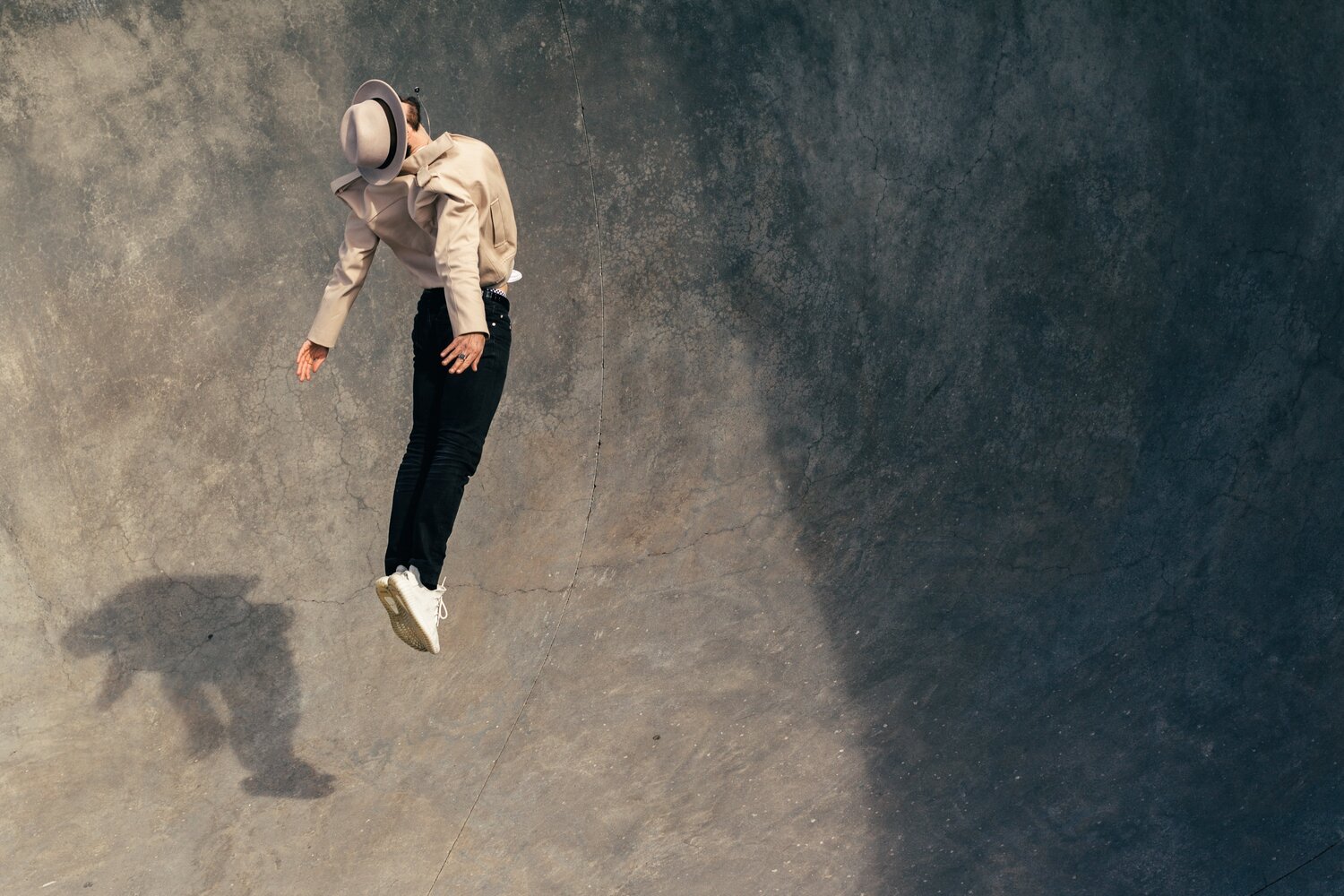 One of the main discoveries I had about my work was realizing that I had to be more authentic. For a long time I was only trying to show the perfect and the beautiful and a lot of people didn't believe that my photos were real. So the moment I started to explain how I do them and show what goes behind the camera, that they are not photoshopped and that they require a lot of strength, energy and thought, it started working out a lot better for me. I think now it's a good thing that people are inspired by it and want to copy me, doing it the way I do it. There's a certain confidence in that.

Sometimes I try to do something for the likes or to get the attention but that doesn't really do as well. But when it's really authentic and in the moment, people are then engaging with the work a lot more and liking it a lot more. I still get caught chasing the numbers and trying to get a bigger following or work with bigger brands. However, I always try to come back and ask myself: why do I really want to do it? Why does it make me happy? What is the goal of creating these photos and doing the work that I'm doing? You cannot lie in the work!




The Joshua Tree Project, created during the first lockdown, was a way to escape and celebrate all things bright and beautiful.
Now that I'm doing this full time, it's not always the good and the beautiful. It's not always successful. Sometimes I have to really work for it, sometimes I'm not inspired, sometimes I am really happy or not and it's about communicating all this through your art and what you're going through. Everyday I have to shoot, edit, conceptualize, pitch through all of that, not just whenever I want to. It's like having a 9 to 5 job. Sometimes there are a lot more challenges that I face, sometimes I think it's going to be easy and it's not, I get in my head, or the weather is not nice enough, or I'm a bit lazy. So it's about sharing all these experiences as a human being and as an artist.
I think my job as an artist is to tell my story through my medium.
I hope that through my work I can convey a message that things are going to get better because things always get better. There's always challenges but that's part of life and I just hope this challenge doesn't last too long for everybody. I hope and I really wish that everybody could be successful and everybody could make a lot of money and be in love and feel great about themselves. More importantly, though, we have to stay authentic and humble in everything that we do and keep on moving forward.
homage to JOKER, dance video directed by Todd Phillips
I believe that some of the most successful people are the ones who give back, and who give a lot. So I met with my creative partner Eric Hercules to start thinking what 2021 could look like, what the future was going to be. We are now working on an online masterclass for levitation photography. The idea is to create a hub for the community and give them all the tricks and tips to try to do it on their own. I want to give people the opportunity to understand the thought process that goes behind my work as well as the technique: how I set up my camera, how I pick my outfits, locations, and how I edit and post on social media or make prints for sale.
It's not about posting a picture on Instagram but about elevating the human spirit.
It fits into my mission of promoting positivity through movement and sharing the love I have for this craft, hopefully giving people a new passion or a new way to create fun photos. To me, the moment you take a photo in the air, it elevates the image and makes it more magical. I just hope that people understand the ideology that goes behind it. The class is set to launch in mid-March and can be pre-registered for
here︎︎︎
My name it Mathieu Forget but people call me Mat. I was born in Paris and grew up in Switzerland. I have lived in the US for the last 10 years and am now residing between New York and Paris. Who knows where I'll be in the next couple of years but I definitely want to explore the world! I am a movement artist and a creative director. My mission is to promote free expression and to elevate people physically, emotionally and spiritually. I believe in authentic artistic collaborations between creators and brands and people in general.
@forgetmat︎︎︎