Gabriele
Herzog

Yellow is my colour now, numerous yellows.
July 3, 2020
My lockdown colours became Naples Yellow, Cadmium Yellow deep, Cadmium Yellow hue, Pastel Yellow, Lemon Yellow, Indian Yellow, Gold Yellow, Azo Yellow deep, Naples Yellow light, Nickel Titan Yellow, Naples Yellow Green, Yellow Ochre, Arylide Yellow, Cadmium Yellow light, Primary Yellow, Olive Yellow and Mustard Yellow.

These colours, I felt, were imposed upon me through having to use the paint I had left over in my Berlin studio in March. All art supply shops had closed.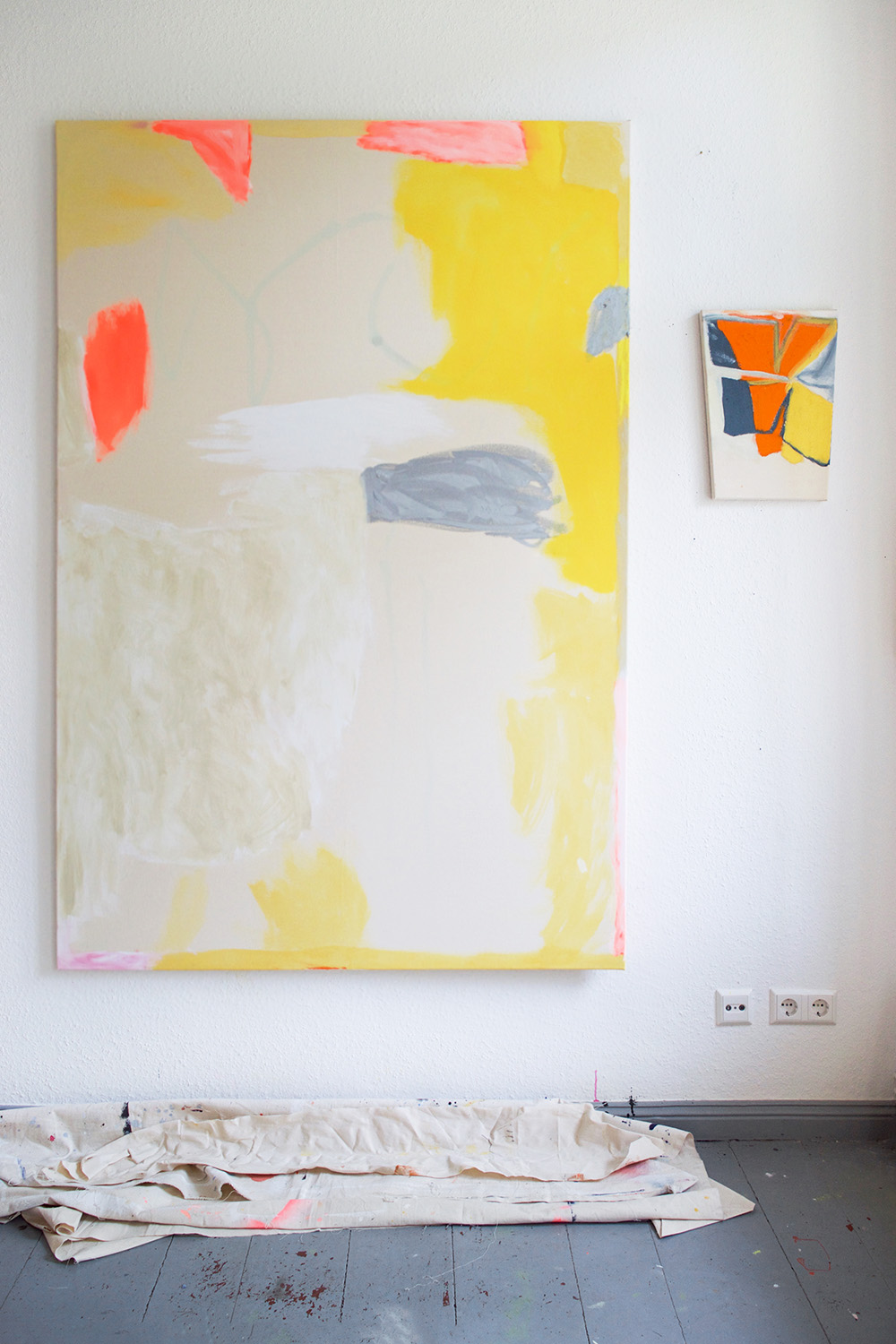 I work intuitive.
And I have to be calm when I paint.
I find my calm space partly by painting and partly through various pre-work routines I know will transport me into my quiet painting space. I am fortunate to live a five-minute walk away from one of the largest art supply stores in Berlin. Often I go there in the mornings to walk along the aisles of paint—this calms me into my working mode. I grab one, two or three tubes of paint that jump at me. I buy them and walk back to the studio. Then I start to work with the colours of the day.

During lockdown I had to chose colours I solely found in my studio. I discovered many different yellows, unused and still sealed. A large part of my work is about colour itself and I always found yellow difficult. Even though I had obviously played with the idea of using it and bought the odd yellow paint. Now I was using yellow, first still not liking it. I drew with yellow coloured pencils on paper. I found different yellow oil sticks, one of them Naples Yellow I had brought back with me from NY. There were different yellow acrylics and oil paints I started using on my large canvases.

I learned, Mustard Yellow on off-white paper is delicious. So is Lemon Yellow next to Silver and Cadmium Orange.
Slowly, the yellows began to work in my paintings and also calm me back into my working mode, which I hadn't been able to find during the first weeks of the lockdown. The different yellows became other colours next to each other. They turned into greens, greys, whites, beige and so on.
The yellow made me think of Van Gogh and De Kooning. And the sun. It brought light into my studio and I could paint again.
The art supply shop is now open again. Going there feels like heaven. I am still in yellow working mode, although yesterday I bought this beautiful blueish-green acrylic paint. The colour is light and a little greyish, its name Cobalt Green Light. It looks blue next to the yellow and I love it!
Gabriele Herzog is a Swiss-born painter who lives and works in Berlin, Germany. She completed her BA at the Schule für Gestaltung Basel, Switzerland and was awarded an MA from the University of Arts London, UK in 2009. Herzog has participated in solo and group exhibitions throughout Europe, the UK and US. Her work is held in private collections in the UK, US, Mexico, Australia, Taiwan, Canada, Switzerland and Europe.
@gabriele_herzog︎︎︎