Azade Nia

I had forgotten the joy that painting brings me.
June 10, 2020
It took me a fairly long time to get to a place where I felt like I was ready to be a parent, so when we realized last fall that we were expecting, we were pretty excited. I hadn't exactly fantasized about a perfect pregnancy filled with green smoothies, prenatal yoga and walks in the park but I think it's safe to say that my experience has been far from what I had imagined.

Avocado Dream
, 2020, acrylic on panel, 11x14 in. (swipe for details)
My home country of Iran was one of the first places to be hit by the pandemic. My family back home was already quarantining for over a month when we started to see the first cases appear in the US. Having witnessed all of this happening in Iran, I still somehow had the assumption that we were safe and the virus was far away. The Tribeca art gallery where I work closed its doors in mid-March. When I left work that Saturday, I naively thought that I would be back in a couple of weeks.

Things started to change very quickly. There wasn't (and still isn't) much we knew about the virus and I was very concerned about how it could affect me and my baby. Just as I was making my peace with the canceled prenatal visits, babyshower, etc, NY hospitals introduced a new policy to bar partners from labor and delivery. I would have to labor alone and my husband would miss the birth of our first child.
This was definitely a breaking point for me. I had never imagined that I would have to go through this alone. I wished there was a pause button I could hit on the pregnancy until this was over. Unfortunately, that's not how it works. Life keeps moving forward, and you can't pause a pregnancy.
Expecting
, 2020, acrylic on panel, 16x16 in. (swipe for details)
I felt very guilty about how my stress would affect the baby, so I had to find a way to distract myself. I ordered some art supplies and started to paint. It had been a long time since I had picked up a paint brush. After a few days, the quarantine started to feel more like an artist retreat, full days of painting with no distraction. I had forgotten the joy that painting brings me. For the first time after art school, I've had the opportunity to spend time doing what I love.

Even though this wasn't the pregnancy experience that I had in mind, it has exceeded my expectations in many other ways. I feel fortunate that I could use these last weeks of pre-parenthood to break the daily routines and come back to what makes me me–art.

The Floater
, 2020, acrylic on panel, 16x20 in. (swipe for details)
We are not fully out of the woods with COVID-19, but I remain hopeful. I think about my mom often these days. She was pregnant with me when Tehran was being bombed by Iraqi forces in 1988. She spent long hours sitting in the
safer
staircases of their building doing needlepoint. A few months later, Iran took the peace deal and the war was over a month before I was born.
I've been finding light and strength in her story and I hope that someday my baby girl will find the same in mine.
Purple Room
, 2020, acrylic on panel, 16x16 in. (swipe for details)
---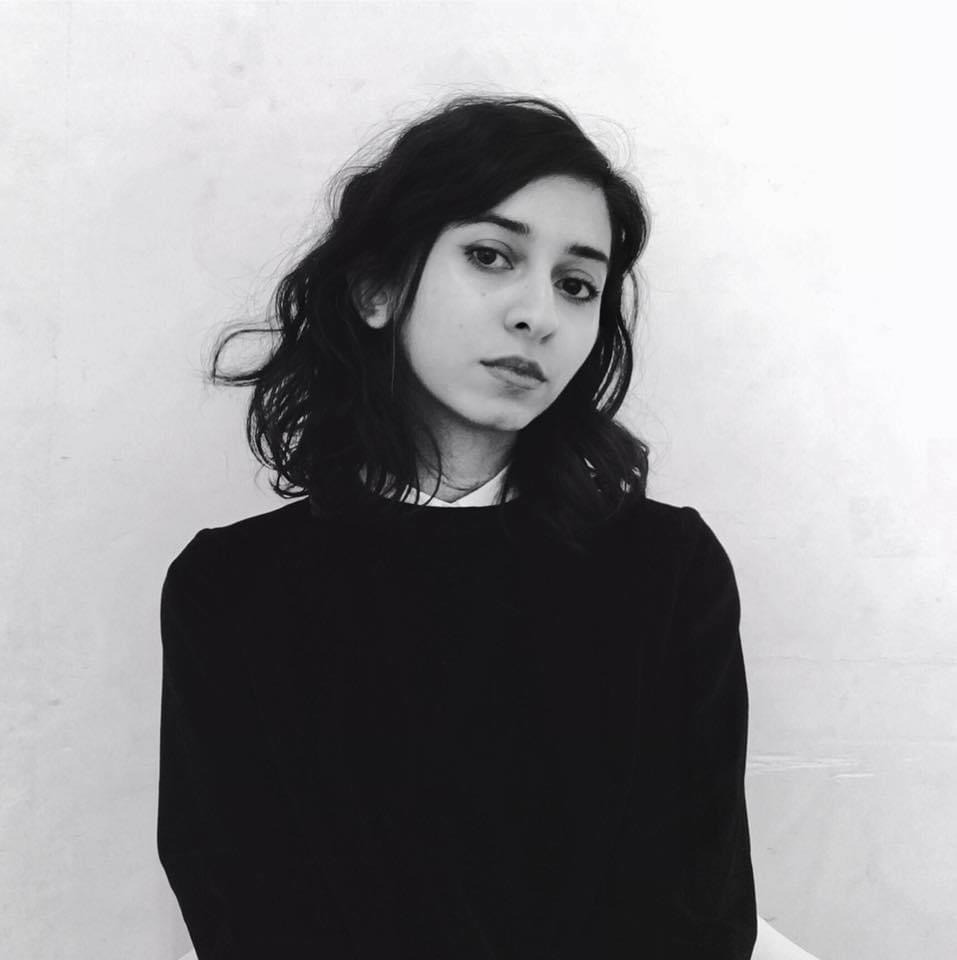 Azade Nia was born in Tehran, Iran in 1988. At the age of 23 she moved to London, where she received her MFA from University of the Arts London. Azade has exhibited her work in Tehran, London and Santa Fe, NM. Her works are held in private collections in Iran, the UK and the US. She currently lives and works in Brooklyn, NY. For more of Azade's work, follow her
@azadenia_88︎︎︎
.